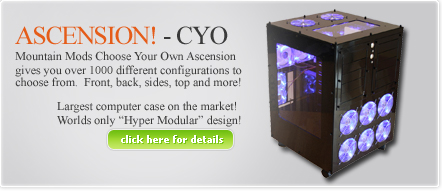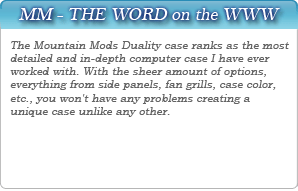 12.14.14

: Happy Holidays - From Mountain Mods!

Mountain Mods is celebrating with some great sales this Holiday Season. Cases 15% to 25% off, as well as several accessories at up to 50% off. Of course our every day low prices are still in effect. Sale Continues until Jan 4, 2014. Mountain Mods will be closed from December 23rd - Jan 5th. Have a Safe and Happy Holidays/New Year.

Click Image for Full list -









04.12.14

: Mountain Mods Gold Digger and 20 PCI I/O brackets released!
This is not your typical Gold Digger! Rather than continually drain your pocketbook, this Gold Digger helps put the coin (crypto-coins to be exact) into your wallet(s)!

Mountain Mods Gold Digger cases are manufactured specifically for GPU mining of crypto-currencies, GPU Folding, and any need for multiple GPU's operating at near 100% Load nearly 100% of the time.

Mountain Mods Gold Digger series cases utilize the base US patented U2-UFO and Ascension designs and incorporate a whopping 20 PCI I/O bracket. The 20 PCI I/O bracket attaches to the Gold Digger case back panel. The bracket utilizes Mountain Mods patent pending "Air Assist" feature. The I/O "Air Assist" is achieved by insetting I/O Mounting holes away from the case with enough space to mount 3x120mm fans behind the bracket and internal the case back panel. The use of 120mm fans greatly increases airflow in the GPU as well as between GPU's. The result is a drastically cooler running GPU with overall lower GPU fan speeds. The reduction of thermal load on the GPU as well as the reduction of the GPU fan speed operation increases the longevity and performance stability of the GPU. Riser cables are used to extend the GPU's from the Motherboard below. Operating the GPU's several inches off the motherboard results in little to no heat transference from the GPU to the motherboard itself. This also greatly reduces thermal loads on the GPU's as well as the motherboard and components. Mountain Mods Gold Digger cases also incorporate a separate I/O panel that attaches to the motherboard allowing for the use of other PCI – I/O devices, including full size GPU's on the mainboard if desired.

The 20 PCI I/O Bracket is also sold separately for the DIY person looking to mount multiple GPU's to existing or homemade platforms!

The U2-UFO and Ascension Gold Digger Back Panels can be purchased separately as well - just select GOLD DIGGER from back panel type optoin.